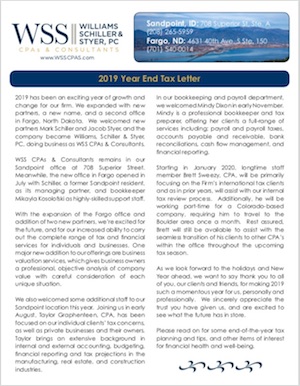 We're coming up on year's end for 2019, and it's been an exciting time here at WSS CPAs, as our company – previously known as Williams & Parsons – became Williams, Schiller & Styer, PC, with new partners and a new office in Fargo, North Dakota, joining our office in Sandpoint, Idaho. We're doing business as WSS CPAs.
Read about the changes at WSS, as well as our advice for year-end tax planning, in our WSS CPAs 2019 Year End Tax Letter:
Year-end tax planning for individuals and businesses
Real estate tax opportunities
Federal income tax withholding methods
IRS rules on virtual currency transactions
New frauds and scams to beware!
Click to read or download the WSS CPAs 2019 Year End Tax Letter»